GUIDE
Our ultimate guide to Hoshin Kanri
The ultimate guide to Hoshin Kanri, from x-matrix and bowling chart templates, to advice on the 7 step process, eBooks, case studies and beyond
Everything you need to know about Hoshin Kanri
Hoshin Kanri is a strategic planning process whereby strategic goals are communicated and translated into action.
Without the correct methodology, organizational culture, and systems, most strategies fail in their execution.
For many highly successful organizations, Hoshin Kanri is the strategy execution framework underpinning success.
What is Hoshin Kanri?
Originating in Japan in the 1950s and widely adopted as the de facto strategy execution framework, Hoshin Kanri means 'compass management' and aligns the entire organization's resources and actions with management's strategic goals.
Increasingly, more and more Lean practitioners are using Hoshin Kanri to help their businesses lose their strategy-to-execution gap, often driven by miscommunication and lack of plan buy-in.
Hoshin Kanri in Japanese translates to:
Hoshin = Direction / compass
Kanri = Control / management.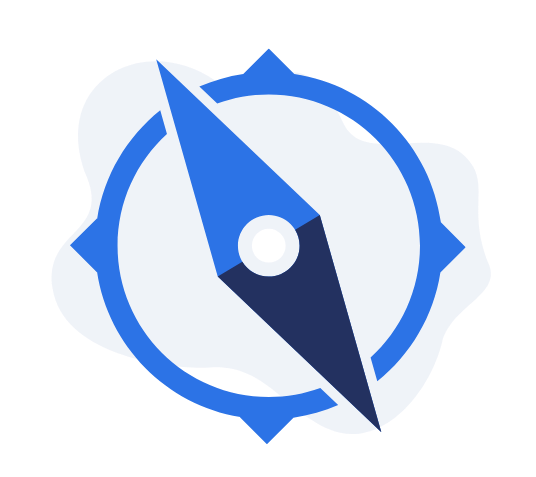 What does Hoshin Kanri do?
At its core, Hoshin Kanri is a Lean method to driving organizational alignment and successful execution of a strategy.
Given the growing complexities of modern work, a strategy can rarely be achieved without combining top-down and bottom-up goal setting and delivery.
That's why Hoshin Kanri promotes conversations and negotiations around goals, making their definition and management easier, aligning three organizational levels:
– Corporate / Strategic: Whereby the strategic direction is set for the organization, covering vision, mission, breakthrough, and annual goals. This often sits with the CEO, CSO, and Cx.
– Tactical: Set at the director or middle management level, these are core elements needed to deliver the strategy. Where improvement priorities and tactics are set by middle management, with initiatives and projects associated.
– Front-line: At the operational level, the work is being conducted for the projects and initiatives. Action plans, KPIs, journals, regular reviews, and an annual review are crucial to ensure all work aligns with the company's goals.
Why practice Hoshin Kanri?
Investing in a strategy execution framework such as Hoshin allows your business to:
– Drive rigor into the way top-level strategic goals are cascaded throughout the organization from top-level, middle management to operations.
– Ensure that these goals, and the strategic initiatives and tactics that relate to them, are aligned and understood across the organization.
– Ensure that progress and results can be regularly reviewed.
How to implement Hoshin Planning
Implementing Hoshin Kanri begins with downloading the x-matrix, bowling chart, and other educational resources. Click the links below to get yours: 

The Hoshin Kanri planning process is one of the most rigorous methods of goal-setting and tracking and can yield considerable benefits to your organization. 
But what does the Hoshin planning process entail? Is Hoshin-Kanri different from policy deployment, goal deployment, problem-solving, and strategy deployment? What principles do you need to know, and how can your organization replicate the success of strategy execution masters such as Danaher and Ingersoll Rand? 
This is your guide to Hoshin Kanri and how it can help your organization turn strategy into operational reality.
Hoshin Kanri terminology cheat sheet
Get to grips with Hoshin Kanri with these key terms.
Annual goals: What is required this year to meet the three to five year breakthrough objectives / goals.
Bowling chart: A visual summary of performance in key strategic metrics based on expected vs. actual performance, which can be used on a monthly or weekly basis.
Breakthrough objectives: Significant transformations that the organization must make and needs to be achieved in the next three to five years.
Catchball process: A back and forth negotiation between organizational layers and across functions as to which area will contribute what to the higher-level goals based on the current state of performance and the change / improvement support on offer.
Digital x-matrix: The digital X-Matrix gives your company, divisions and departments a connected and accurate view of how their actions support your tactics.
Hoshin Kanri: Sometimes known as Hoshin Planning, Policy, Goal or Strategy Deployment – is a strategic planning process whereby strategic goals and tactics are communicated and translated into action.
Hoshin facilitator: The facilitator validates and updates strategy, translates tactics into a robust strategic plan, uses the X-Matrix and catchball process to align the strategic plan with the entire organization.
Improvement priorities: A list of executable continuous improvement processes that leverage the most appropriate problem solving approach to achieve the aligned annual objective / goals.
PDCA: Plan-Do-Check-Act is a four-step business management method to continuously improve processes and products.
Strategic planning: A process or review of documenting and defining your organization's direction by assessing your current and desired future state.
Targets to improve: Also known as ultimate metrics, the means by which you are measuring success.
The Seven steps of Hoshin planning: The systematic approach to delivering Hoshin planning process.
True north: The idea that your entire organization should align to achieving its vision, or True north.
The "W" process: A strategic planning process influenced by the catchball method that empowers your entire organization in a way that gives meaning and purpose to everyone\'s work.
X-matrix: A visual planning tool that allows you to decompose your Vision into the Breakthrough Objectives / goals, Annual Objectives / goals, Improvement Priorities, Targets and Accountable Owners.
Hoshin Kanri, policy deployment, goal deployment, policy management or strategy deployment?
While the Hoshin Kanri definition is commonly used to refer to this methodology, adaptations have been made to the process, and in turn this has led to the growth of many other phrases used across the world.
In its evolution from a Japanese strategic management theory to a process used in Western organizations, a Hoshin Kanri template has taken on these different names:
Policy Deployment (AT&T)
Managing for Results (Xerox)
Goal Deployment (Exxon Chemical)
Policy Management (Florida Power and Light)
Hoshin Planning (Hewlett-Packard)
Focus Alignment Integration and Responsiveness (Witcher et al's FAIR model which adapts the PDCA cycle)
The 7 steps of Hoshin Kanri
Let's take a closer look at a simple 7 step Hoshin Kanri process and what each step means.
Setting the true north
Set your company's true north, its long-term vision for the future (combining mission and vision) – what direction do you want the business to be and what will it look like?
Developing breakthrough objectives
These are 3-5 year objectives driven by your vision which cannot be reached without significant change in product, processes, tactics, or people.
Developing annual goals
Here you set annual objectives to support each breakthrough objective, with focus, accountability and clear metrics, tactics and key tactics to be agreed.
Deploying annual goals
The back and forth catchball process ensures all accountable owners of objectives understand their role, required resources and consult their teams.
Implementing annual goals
Having defined goals and projects to achieve these targets, this is where your business executes the defined activity.
Monthly (and quarterly) reviews
Monthly reviews check where the Hoshin plan is off track, with countermeasures to correct this, and a quarterly review asking if the projects are the right ones to achieve the annual goals.
Annual reviews
Hoshin Kanri entails an annual review of the year and breakthrough goals, with adjustments made before the process begins again.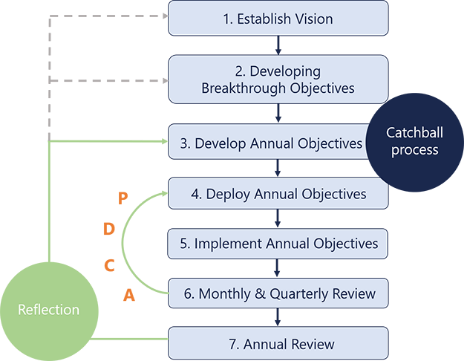 Learn more about Hoshin in our free eBook, including two business system case studies, the x-matrix explained, and how to digitalize your Hoshin Planning.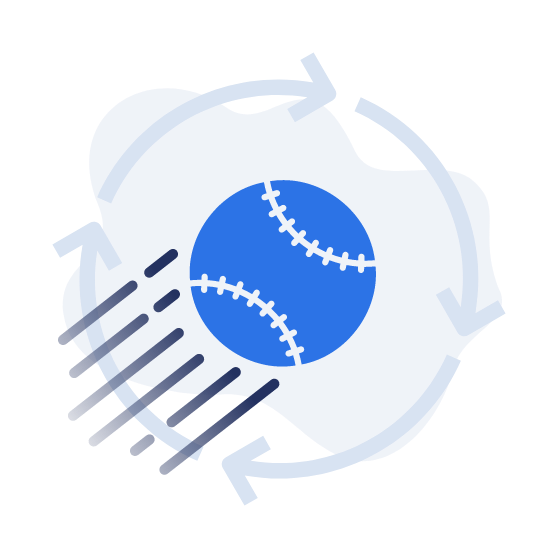 The catchball process
Define, cascade, communicate, negotiate and set goals that align with your true north.
The catchball process is a negotiation between organizational layers and across functions as to what each area will contribute to the higher-level goals based on the current state of performance and the change / improvement support on offer.
Simply put, it's the most effective way to make effective goals.
Catchball comes down to collective agreement, but this must first be established by a process design, which can be created through a Ringi system, social judgment, or Delphi.
Unlike in other strategy cascades, all accountable owners at every level must be part of the process at the earliest stage to understand their role, consult with their teams, calculate resource requirements, recommend changes, and then commit to its delivery.
Creating alignment and commitment across all involved in delivering the plan means that when the time for execution comes, it can be swift, efficient, and well-coordinated.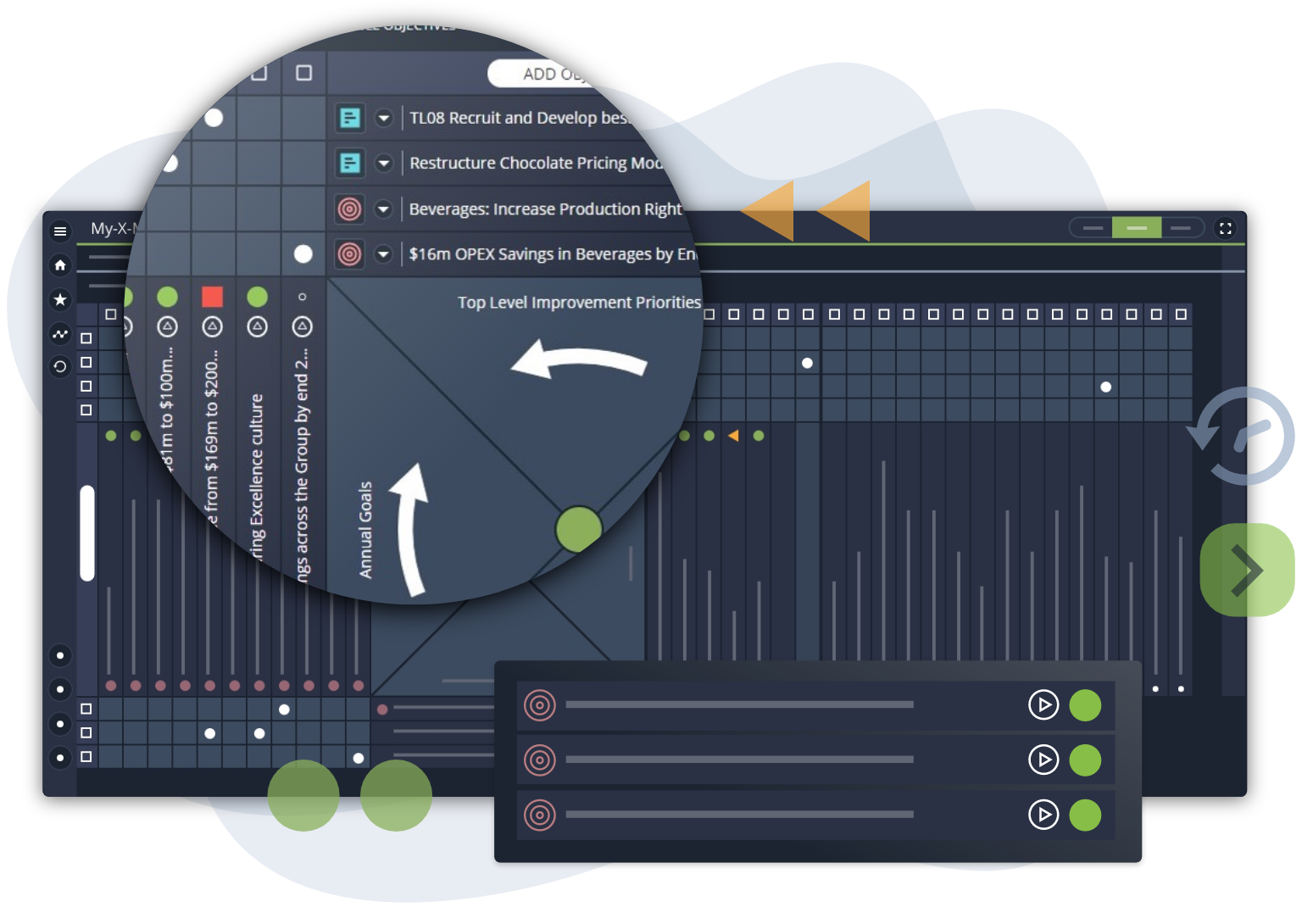 The x-matrix
Turn your strategy into a plan
The Hoshin matrix is a visual planning tool that allows you to decompose your Vision into breakthrough objectives, annual goal, improvement priorities, targets, and accountable owners.
This tool takes time to learn but is unparalleled in its ability to quickly see if the plan holds together down through the hoshin planning levels.
The power of x-matrices is that at a top level you can ensure rigorous alignment across all these components – but it doesn't stop there. This is only the top-level matrix.
There is limited value in having alignment at the highest level in the organization, only to mysteriously lose it as it cascades through the organization.
Therefore, there will be x-matrices at lower levels in the organization that align to those above. These provide any leader, function, or team with their own set of improvement priorities, projects, measures and allocated resources which underpin the top level breakthrough objectives, annual goals, and improvement priorities.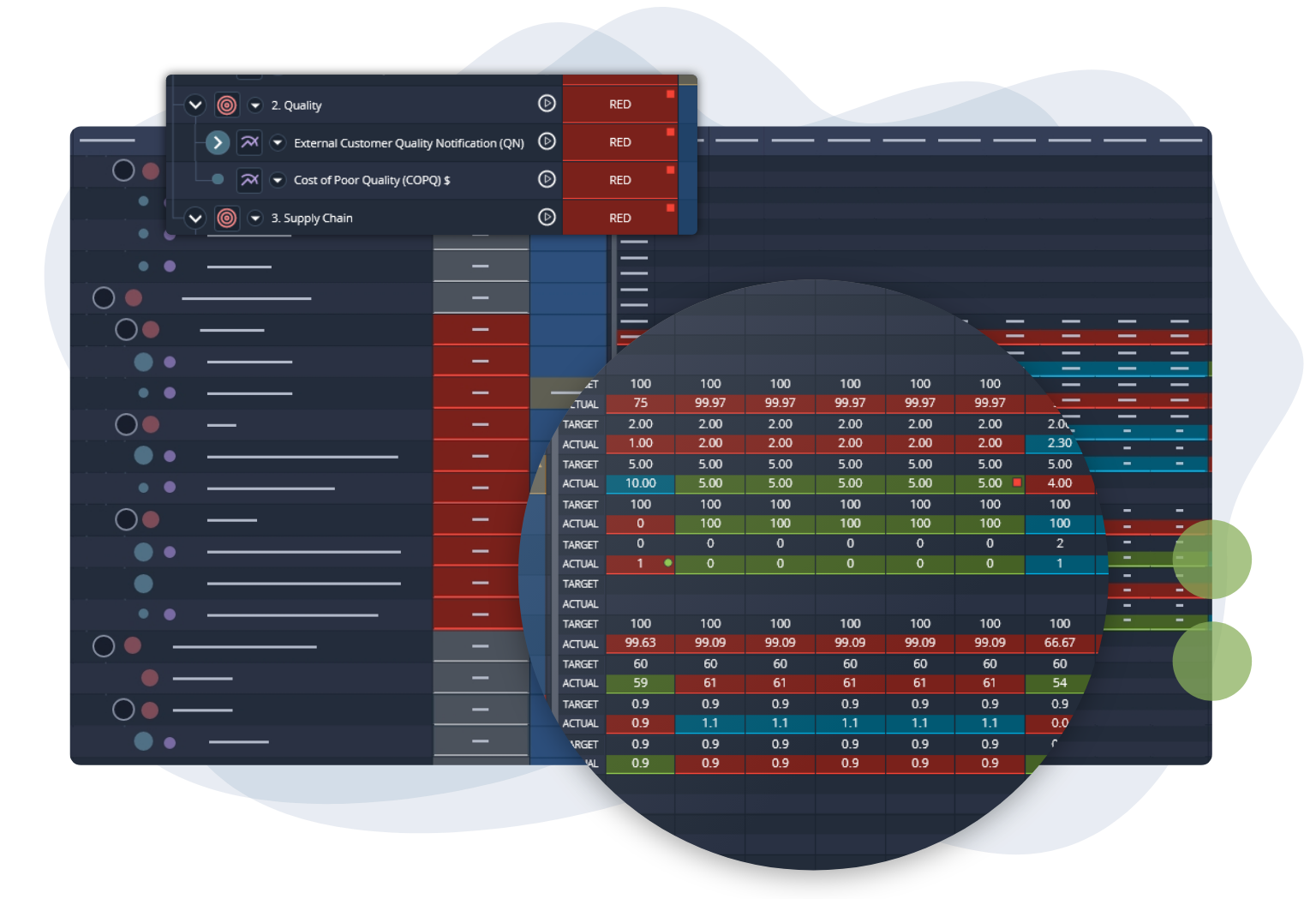 The bowling chart
Visually manage your performance
A bowling / bowler chart / performance dashboard is a visual summary of performance in key strategic metrics based on expected vs. actual performance, which can be used on a monthly or weekly basis.
The bowling chart is the most effective way to measure the progress and activity of the initiatives and projects which flow from your detailed x-matrix.
Often there will be a visual management aspect to this chart which shows the distinction between red, amber and green actual performance to allow focus on exception management.

Traffic Light Statuses / RAG Statuses
Red status: Indicates the KPI is at a level worse than the previous period and the target set.
Amber status: Indicates the KPI is at a level of performance which is better than the previous period but not on target.
Green status: Indicates the KPI is at a level of performance which meets the target set.
The bowling metaphor is adopted due to the similarities of the chart to a classic bowling scorecard, and is regarded as an effective tool in the arsenal of organizations who want to instil a measurement culture and lay the foundations for operational excellence.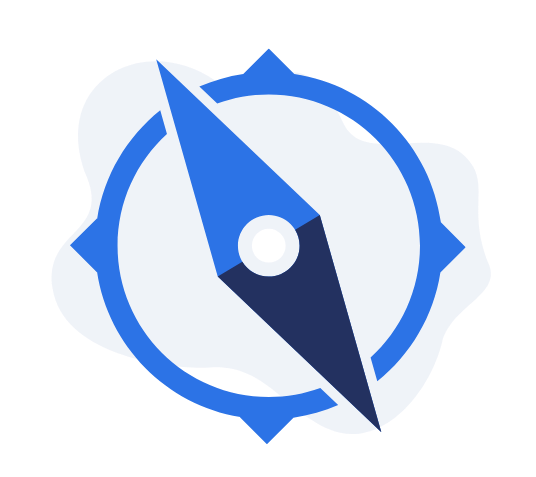 Why is Hoshin Kanri different from other methodologies?
Hoshin is the evolution of MBO
Hoshin Kanri is one of many methodologies from Peter Drucker's Management by Objectives (MBO).
These varying methodologies include:
OKRs (Objectives and Key Results) is popular in technology companies
OGSM (Objectives, Goals, Strategies, and Metrics) is popular in retail, leisure, and entertainment, and
Hoshin planning is widespread in manufacturing and in large conglomerates, where both central coordination and unit autonomy are prized.
What makes Hoshin Kanri different?
Hoshin Kanri is recognized as the most structured of the MBO methodologies and has several characteristics which make it unique:
It requires planning in multiple timeframes, from long-term to immediate actions, with direct links between each timeframe
It enables coordinated planning across organizational boundaries
Hoshin Kanri is both top-down and bottom-up, building both company-wide and individual commitment to the plans
It requires measurement of success using both lagging and leading metrics
Where difficulties arise in meeting targets, it provides a framework for solving them.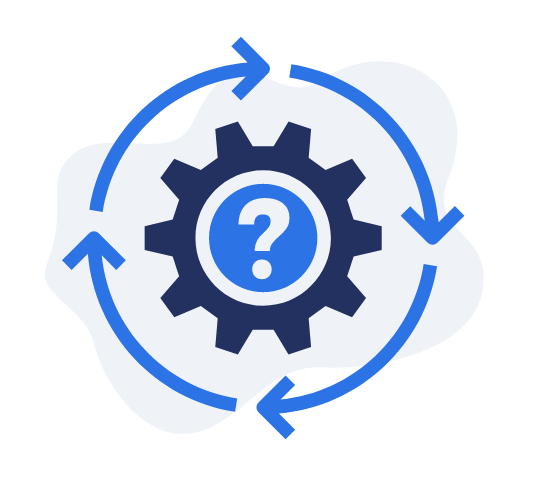 Typical challenges of implementing Hoshin Kanri
Navigate these Hoshin Kanri challenges
Common challenges with Hoshin Kanri include:
Resistance to accountability
At any level of an organization you might find a senior executive, middle management or team member who is resistant to hard and fast targets. Senior sponsorship is vital to overcoming opposition.

Process and commitment conflicts
Budgeting, senior leadership meetings and company-wide conferences are all interfaces with the Hoshin planning process and execution cycle. Taking the time to 'make it fit' will alleviate unnecessary conflicts.

Fear of failure In many companies, failure to meet target is career limiting
In the Hoshin planning template, it is considered a learning opportunity – unmet targets need countermeasures, not criticism.
It takes considerable senior leadership to build a culture of trust in an organization that is rife with fear of failure.

Inconsistent, incorrect data
The Hoshin planning process targets need to be measured against clean, real-time data in your organization sourced from multiple systems, and progress needs to be measured in a clear, consistent way.

Organizations with Programme / Project Management Offices or Continuous Improvement Centres of Excellence may already have clean data sources and standards in place, but for those that do not, building this capability is paramount.
Case study: Danaher's advancement of Hoshin Kanri
Danaher's Business System re-imagined Hoshin.
As with most methodologies, advancements are made and customizations to fit circumstance and different environments, and a shining example of that is Danaher and their Danaher Business System which mixes the principles of Hoshin-Kanri and Lean Management.
Danaher is a global science and technology innovator with multi-billion-dollar businesses in life sciences, diagnostics, environmental and applied solutions, and dental markets.
In the last three decades they have bought, integrated and improved the performance of hundreds of acquisitions.
What you need to know about their application of Hoshin & Lean management
Originally known as the Danaher Production System, Danaher's system was based on the best Lean practices that were coming out of Toyota in Japan in the mid 1980s. The focus was to develop a competence in Lean for the next 15 years, driving waste out of the system, and implementing a toolbox of continuous improvement for every facet of the production environment.
In 2001, the logic of the Lean approach extended to growth opportunities, and Danaher built a similar toolbox to enable the company to be just as rigorous in sales and marketing as they had previously been in production. The toolbox was not a static one and was continuously refined and improved over the years as part of the Kaizen philosophy.
In 2009 a third area was added – Leadership. The combination of Lean, Growth and Leadership provided Danaher with a complete business system.
How Hoshin Kanri helps Danaher
It is through the Hoshin Kanri template that Danaher converts their top-level strategy into execution using lean tools such as the X-Matrix as part of the toolset.
Annually, each of the Danaher operating companies develop a strategic plan that identifies opportunities along two tracks: improvement opportunities that exist around running the business day to day, and the more challenging opportunities that involve larger or breakthrough transformation.
This strategic plan translates into improvement priorities and, depending upon the nature of improvement priorities, a decision is taken on which toolsets across Lean, Growth and Leadership will be used. Progress on the various programs, projects and action plans will then be measured monthly, or more frequently, against the relevant KPIs.
The combination of using this annual process to cascade, align and manage the vast array of initiatives, and measure the outputs to a regular drumbeat has delivered stellar performance for Danaher.
What we can learn from Danaher's evolution of Hoshin-Kanri
When examining 25 years of Danaher's total shareholder return vs. S&P, the years 2001 and 2009 hold significance. It isn't coincidental that the share price dramatically increased as Lean methodology grew into functions and areas beyond the production environment. It is the Hoshin Kanri planning process that ensures that planned improvement will drive commercial performance in its broadest sense in the most efficient way.
i-nexus powers your x-matrices, bowling charts, and more
See how to convert a Hoshin Kanri x-matrix from Excel into i-nexus
Hoshin Kanri eBooks, case studies, and guides
Learn more about Hoshin Kanri with our dedicated resource hub.
From jargon busters and case studies to methodology comparisons, this is the home of Hoshin Planning knowledge.
Ebook
Unlock the value of Hoshin
Download this eBook to discover how Hoshin Kanri is helping the world's most successful organizations deliver breakthrough performance and the steps you can take to leverage this system in your business.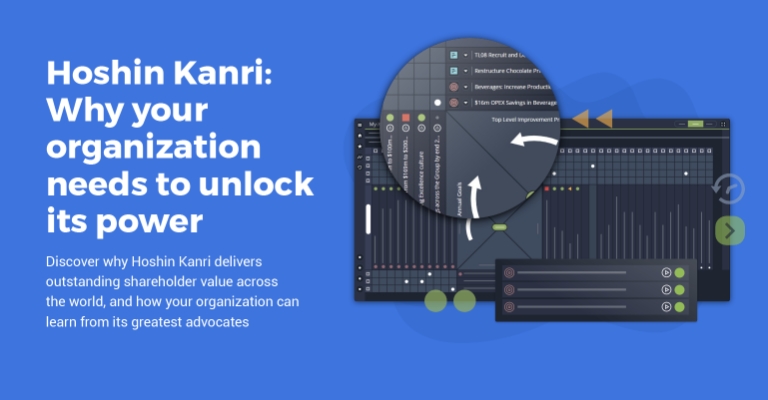 Guide
A comprehensive guide to Hoshin planning
Jargon buster
The ultimate guide to Hoshin terminology
Catchball process
Learn how to cascade goals
Resources
The resources you need to support your Hoshin Kanri
Spreadsheets vs. software
Are spreadsheets enough for your deployment?
Comparison
See how Hoshin Kanri Planning compares to OGSM and OKR
Comparison
See how Hoshin Kanri compares to Balanced Scorecard
Comparison
See how Hoshin Kanri compares to 4DX and MBO
Comparison
See how Hoshin Kanri compares to Lean tools and PDCA
Explainer
X-matrix explained
Explainer
Action plans explained
Explainer
Bowling Charts explained
Blog
How Hoshin Kanri uses the voice of your customer
Blog
Why countermeasures are at the heart of Hoshin Kanri
Blog
How to think critically when creating breakthroughs
Template
Download an x-matrix Excel template
Template
Download an action plan Excel template
Template
Download a Bowling Chart template
Webinar
Watch how to identify your breakthrough objectives
Webinar
Watch how to deploy your breakthrough objectives
Webinar
Watch how to measure your breakthrough objectives
Webinar
Watch how to build a strategy execution culture
Webinar
Watch how to adapt your strategy execution
Webinar
Watch our strategy execution Q&A webinar
Webinar
Watch how to build a robust strategic planning roadmap
Advice
5 ways to overcome Hoshin Kanri's challenges
Explainer
Why you should use an x-matrix for your strategy's execution
Software
Learn how i-nexus makes Hoshin Kanri easier
The benefits of using Hoshin Kanri software
1. Standardize your approach
Hoshin Kanri software can help you to digitalize and bring standardization to your x-matrix, bowling chart, and countermeasures.
2. One plan and one direction
Leave spreadsheets and slides behind, and choose to bring all of your plans inside one location so that everyone understands the role they play.
3. Accountability
Assign ownership and accountability to key stakeholders, tying them into execution and ensuring they always know how their goals are performing.
4. Agile
Remain agile in your environment with planning states, using existing data and predictive analytics to feed an adaptive approach to strategy.
Introducing i-nexus Hoshin Kanri software
Remove Hoshin's complexity with i-nexus, featuring the only rotatable x-matrix, catchball goal setting, automatic bowling charts, and all the tools needed to align your business to true north.
i-nexus removes the bad from Hoshin Kanri.
No broken spreadsheets. No searching for the right plan. i-nexus makes everything crystal clear.
Every goal and project feeds success. Automatically create your metric bowling chart. Account for every resource and owner. Every corner of your business is connected to the i-nexus x-matrix.
With i-nexus, Hoshin Kanri is simply easier and takes less effort.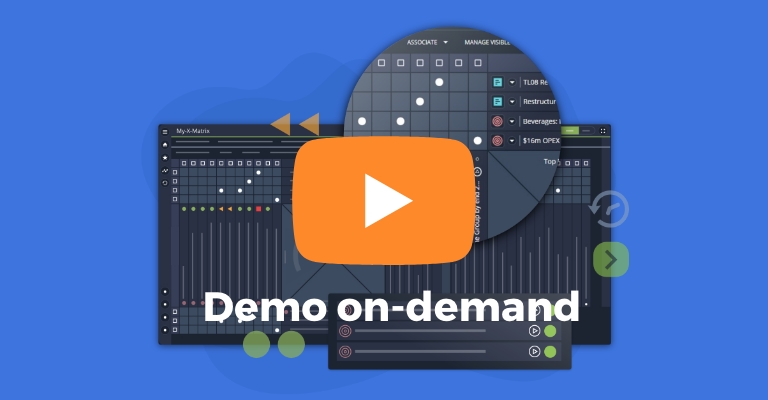 i-nexus for Hoshin Kanri demo
Watch our on-demand demo of i-nexus for Hoshin Kanri to learn how you make Hoshin Kanri easier and produce the results you need.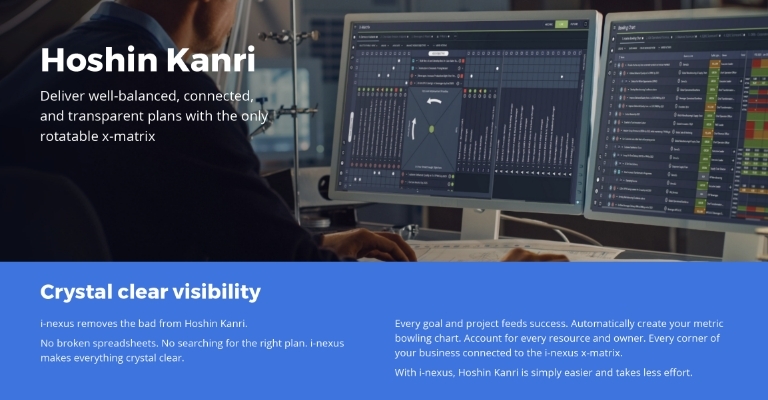 i-nexus Hoshin Kanri software datasheet
Download a copy of our Hoshin Kanri software datasheet to see how our Hoshin solution will help you leave behind the pains of Hoshin.
Discover the better way to achieve your goals
Download a copy of the key to strategy execution eBook, watch i-nexus in action with our on-demand webinar, or book your demo of i-nexus today