guide
Our operational excellence guide
The ultimate guide to the world of business excellence, with templates, eBooks, webinars, videos, and advice from decades of experience across continuous improvement, Lean, Six Sigma, Kaizen, and project management
Everything you need to know about operational excellence
Operational excellence is an organized approach to finding opportunities that can help a business meet its goals of increasing profits, reducing costs, and driving innovation.
The discipline has existed for over 80 years and takes many guises, covering an array of tools and techniques all designed to improve customer experience (delivering the greatest value).
For a few highly successful organizations, such as Toyota, GE, Ford, Motorola, and Nike, the world of improvement has underpinned their success. But it isn't exclusive to these powerhouses.
Spanning well-known tools, techniques, and theories, including Lean, Six Sigma, PDCA, Kaizen, and beyond, operational excellence is the passion of improvement and project professionals concerned with increasing efficiency and eliminating wastage in their processes.
But what does operational excellence mean? What is its relationship with continuous improvement, process analysis, Lean, Six Sigma, and other techniques? What are the common challenges with the discipline and how can you overcome them?
This is your guide to operational excellence and how it can help your organization deliver repeatable strategic value to drive growth in your organization.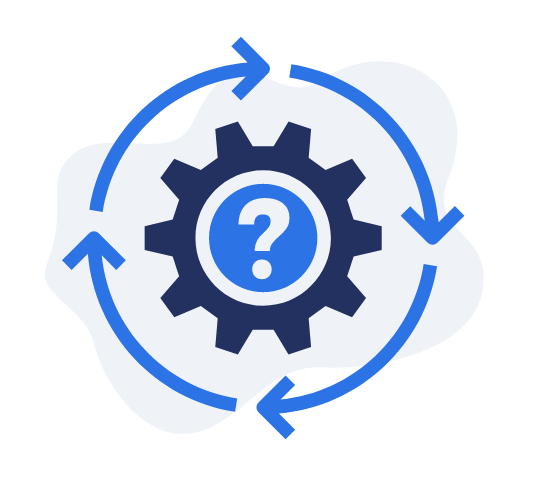 What is operational excellence?
At its simplest, operational excellence is a philosophy. It is the mindset that problem solving, and leadership can drive continuous improvements in your business.
It empowers entire businesses to be involved in improving a customer's experience and can also be referred to as process excellence and business excellence.
However, there are many layers to operational excellence which can make it hard to define, and perhaps harder to truly embrace. Part of that is that operational excellence and continuous improvement are often confused.
Continuous improvement is an on-going attempt to improve your products, services, and processes. Unlike business transformation, continuous improvement happens incrementally, often in a project management setting, with countless improvements adding up to provide considerable value.
Operational excellence takes these continuous improvements and couples it with concepts like standard work, project management, and a philosophical shift to support sustainable improvement across your entire business.
Operational excellence is about culture. It is creating an environment where your team are valued and empowered. With operational excellence you can see how value flows through your organization, and your team are given the tools to make the changes they need to delight your customers.
Operational excellence is therefore is the foundation, but it takes concepts such as continuous improvement, project management, process analysis, PDCA, Kaizen, Lean, and Six Sigma to reach a state of business excellence.
With the right culture, systems and mentality, improvement becomes part of everyday work, and can provide incremental value to businesses seeking a new route of competitiveness and achieving operational excellence.
Operational excellence cheat sheet
3Cs: Three questions to correct a problem – concern, cause and countermeasure.
7 wastes: The 7 types of waste in a process – transport, inventory, motion, waiting, over-processing, over-production, and defects.
Affinity diagram: A means to organize data and ideas relating to your process.
Cause and effect diagram: A problem-solving tool used to form relationships between effects and causes. The effect is revealed via branches (fishbones) showing different causes of it.
Control charts (Shewhart charts): A chart that shows if a process is in control.
COPQ: What is the cost of failing to meet a customer's expectation, covering views such as internal, external, inspection, prevention and missed opportunities.
Countermeasure: The actions taken to address the root causes of problems which prevent you from achieving your goals.
Continuous improvement: Increasing business effectiveness by reducing inefficiencies, frustrations, and waste (time, effort, material, etc.).
Daily management: Giving daily attention to issues which occur within business as usual.
DMAIC: A main concept of Six Sigma methodology, a process covering define, measure, analyze, improve and control.
Flow: The state of a process in which the parts move from one step to the other in a steady, continuous stream without reducing quality.
Lean: The striving of avoiding waste, boosting quality and driving continuous improvement in all processes.
Operational excellence: The destination of continuous improvement activity is reaching a state of operational excellence, where all employees can see the flow of value to the customer, and fix that flow before it breaks down.
PDCA: Plan-Do-Check-Act is a four-step business management method to continuously improve processes and products.
Root cause: The core reason for an issue with a process.
SIPOC: A tool to summarize inputs and outputs of processes. It covers suppliers, inputs, process, outputs, and customers.
Six Sigma: Management techniques to improve processes by reducing likelihood of errors / defects. It's directly connected to the DMAIC system.
Value stream mapping: A process map that captures information, process flow and performance data and looks at current vs future states of a process.
Voice of the Customer: The "Voice of the Customer" is the term used to describe the stated and unstated needs or requirements of the customer.
Yokoten: The Japanese phrase for horizontally deploying learnings / method is all about identifying issues, using a process, sharing results and then applying this elsewhere to create a larger impact on the business.
The pillars of operational excellence
Let's take a closer look at the four pillars of operational excellence, the term's origins, the standard frameworks used, and the simple steps you can take to achieve excellence.
We'll begin with the four pillars of operational excellence.
1.
A commitment to process
2.
Enabling cross-organization collaboration
3.
Embedding a culture of measurement, learning and communication
4.
Adopting technology to find efficiencies within the improvement process
Excellence origins
From Gosset's statistical test to Motorola's Six Sigma success, the seeds of operational excellence were planted in the 1700s.
The history of operational excellence splits in two – Lean and Six Sigma.
Lean is synonymous with Toyota in the first half of the 1900s, and its eventual transplant to Western management thanks to the seminal book, 'The Machine that Changed the World' and the NBC special covering the work of Deming in Japan and his PDCA model.
Six Sigma began with Guinness brewery and shot into the conscience of business leaders with Motorola in the 1980s, with their success inspiring the likes of GE to seek operational excellence.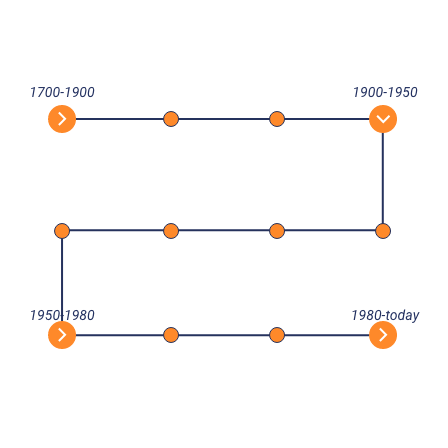 Operational excellence frameworks
Whilst navigating the world of operational excellence, it is helpful to categorize the different theories / approaches within the space, what we call 'frameworks'.
Lean Management
Lean focuses on shared responsibility and leadership for identifying and eliminating waste across your business. It has 5 steps:
Identifying value: What do you deliver to customers and what doesn't give them value?
Mapping value stream: Map out the people, actions, outputs and systems involved in a process.
Creating flow: Apply techniques to address problems, bottlenecks etc. and remove them.
Establishing pull: Shift your business to optimize resources and process based on demand.
Continuously improving: Monitor and control the performance of your new process.
Kaizen
Kaizen comes from two Japanese words: 'kai' meaning 'change' and 'zen' meaning 'good'. To summarize the Kaizen approach:
Toyota: The approach originated in the 1980s from Toyota, the originators of Lean.
Empower: Employees are encouraged to suggest ideas and solutions for process flow.
Grassroots: It is a bottom-up approach where small improvements create big change.
Silo busting: Kaizen promotes cross-team working and alignment to one goal – improvement.
Events: A flagship element of the approach, here teams hone in on projects to address particular issues.
Six Sigma
Six Sigma (6σ) is a statistical approach to minimizing defects in a process. 4 things you need to know about Six Sigma:
6 principles: Customer focus, understand the how, make processes flow, reduce waste, stop defect variation, collaborate and create data-informed systems.
DMAIC: This is the go-to method for problem-solving.
Toolset: Many tools are used here, but control charts, FMEA and process mapping are prominent – disagreement exists over what tools are involved, however.
DPMO: The measurement of improvement – Six Sigma means 3.4 defects per million opportunities.
Operational excellence tools
As your business seeks operational excellence there are tools that can be applied throughout the process. These are some popular options.
Kanban
The Kanban board is a way to visualize blockers in your workflow and is a useful way to easily spot where improvements might be needed.
A3
A3 refers to A3 paper reports which address lessons post PDCA, covering current state problems, solutions and a plan to address these issues.
PDCA
Plan: Define your goals
Do: Implement plan
Check: Assess results
Act: Adjust plan
Just do it
A log of actions, context, results and expected benefit. Involving action plans and concern & countermeasure sheets.
Value Stream Mapping
A process map that captures information, process flow and performance data, involving current state (what is the issue right now) and future state (ideal scenario) map.
Root Cause Analysis
Covering tools such as FMEA, 5 Whys and Fishbone, root cause analysis seeks the core reasons your process is stuttering and offers tools to identify the cause.
Kaizen Events
A short structured problem-solving event, typically over a week, where 100% of the time is spent identifying how to improve a process.
Gemba Walks
An observation of the process in situ, meaning managers watch the actual production process and use it as a human way to capture data and ideas on how to achieve greater improvement.
Benchmarking
A means of setting existing performance metrics and then comparing future performance to these. Benchmarks can be internal or external.
Applying continuous improvement
Two core applications of continuous improvement exist – daily management and improvement projects.
Daily management
Several top-level continuous improvement cycles exist, but none are more prevalent than Deming's Plan, Do, Check, Act model.
This can be used in what is referred to as daily management, daily kaizen or just 'good ops'.
Upfront effort will be spent working with teams to establish a base level of operational discipline to provide a foundation to understand what the plan should be.
By applying techniques such as the below you can establish a baseline of quality which can then be continually monitored and improved:
Demand profiling
Capacity planning
Root cause analysis
Performance dashboards
Observation scheduling
Visual management
Skills and training matrices
Leader standard work
These tools are used in order for you to:
Understand how the work should be done
Gauge the level of performance expected
Do the defined work
Check and review performance
Review and act on any improvement needed
Improvement as a project
Once you have a baseline of performance, you can turn to improvement methods and tools for projects which drive sustainable change.
How you manage improvement is important as it will help ensure you are delivering the right improvement in the right way to give you sustainable results.
There are several approaches to delivering improvement:
Just do it: as covered above, here it's about logging what you've done, the results and improving.
Countermeasures: Implement a quick fix and investigate the root cause. Apply another fix and then analyze.
Root cause problem solving: Define your problem by using tools such as value stream maps, 5 why's and FMEA, fix and then form an action plan to address the root cause, measure the impact and repeat.
DMAIC: Define, measure, act, improve and control the process improvement, involving SIPIOC, stakeholder analyses, pareto chart, process mapping etc.
Project management: An organized approach to take your activity from definition through to completion.
Diagnostic: Define your problem and apply a Six Sigma toolset, including process capability and measurement system analysis.
Intervention: Apply Lean tools such as 5s, Kanban, Takt, mistake proofing and theory and constraints.
Kaizen event: A week-long analysis of a problem and concentrated effort to make a clear improvement.
Building an excellence culture
When seeking operational excellence through continuous improvement, you cannot escape the importance of building the right culture.
Try these suggestions for ensuring your culture is one of collaboration, openness, and learning:
Preach
Communicate the value of improvement projects
Give examples of where it has worked
Support and take part in projects
Enable
Create virtual suggestion boxes
Use visual management techniques
Carve out time for improvement projects
Reward
Document projects and replicate
Communicate success
Incentivize participation with reward schemes and career progression
Building an excellence team
Your improvement team exists to manage your journey to operational excellence and focus on implementing improvements in your business.
Excellence is far-reaching, meaning many people form your landscape:
Improvement Champion
Coaches improvement and supports cultural change, among other duties
Improvement Process Owner
The individual who owns the process post-project
Individual
Receives education and openly participates in improvement culture
Improvement Leadership Team
Establishes the improvement culture and shepherds resources
Company Leader
Accountable for achieving improvement goals
Project Leader
Lead project teams, create project plans and share learnings
Project Team
Plan project, execute, measure and install new processes
Project Sponsor(s)
Individuals, Supervisors, and Process Leaders who support project
Stakeholders
Agencies, Organizations, Teams, Individuals, and Customers impacted by project
Subject Matter Expert
Consulted for knowledge on a topic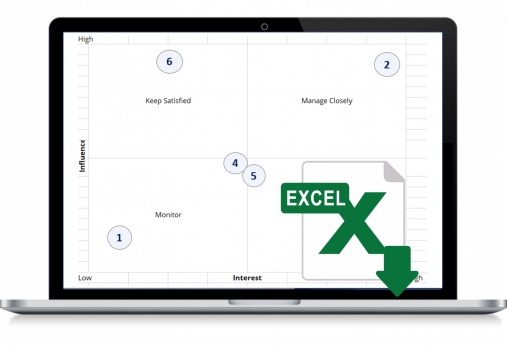 Engaging stakeholders
As an operational leader, you are overseeing a complex portfolio of change.
That change ranges overall transformation of operations, to empowering individuals to participate in real improvement, all the way to overhauling processes.
To that end, there is a landscape of stakeholders who will influence your efforts.
To successfully navigate these, you must analyze these influencers, and that begins with a stakeholder mapping exercise using an Excel template.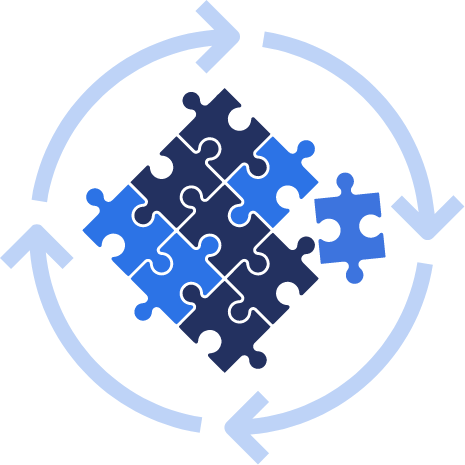 Operational excellence challenges
Overcoming these barriers is crucial for achieving operational excellence
Reason and purpose
The reason you are there and the shadow it can cast – you may be seen as being in the business to cut heads.
Leadership mentality
Are your leaders there to embrace change and support you, or will they act as resistors?
Existing knowledge and capability of people
Not every member of your improvement team will have the same capabilities or knowledge. Empower and nurture when appropriate.
The base operational standards as a stable foundation (including data availability and quality)
How available is data in your business, is it treated as gold dust, or is there a reluctance to listen to data and instead focus on narrative?
Fit for purpose method
Do not over-engineer, nor cut corners, and certainly do not apply an improvement framework ill-suited to the business.
Business as usual
Be it securing the right people for your improvement team, or simply winning the hearts and minds of staff who are in constant firefighting mode, the day to day can
take the spotlight over your improvement initiatives if not addressed effectively.
The risk and opportunity of technology solutions
We're living in a COVID-19 world and that means there is plenty opportunity to embrace virtual continuous improvement, ensure your platforms links your improvement to your business' strategy and demonstrates ROI.
The ROI of operational excellence
The value of excellence is about more than financial gain…
There are two sources of value when it comes to operational excellence:
The what – the outcomes or benefits that can be delivered
The how – how it feels for the organization to deliver the above outcomes in an improvement driven way
Let's take a look at 4 stats to prove the need for improvement, and 4 more that show you the benefits of continuous improvement.
Four stats you need to know
31%
of organizations fail to realize the benefits of their projects
Wellingtone
35%
of CEOs are confident revenue will grow within 12 months
PwC
37%
of projects fail from a lack of defined objectives
PMI
40%
of professionals struggle to link operations to strategy
PEX
The benefits of operational excellence
1. Increase employee engagement
Companies with a high level of employee engagement are more profitable by a factor of 21% (Smarp, 2020)
2. Reduce staff turn over
On average, the cost of staff turnover is $30,000 (Sodexo Engage, 2020)
3. Excellence as a standard
Pouring your team's voices into your product / service means you're striving toward excellence on a daily basis.
4. New day = new opportunity
Learning is the bedrock of improvement, siloes disappear, and you constantly seek growth opportunities, all for your customers' benefit.
Operational excellence templates, eBooks, blogs, webinars, and more
Learn more about operational excellence with our dedicated resource hub.
From jargon busters and case studies to webinars, this is the home of operational excellence knowledge.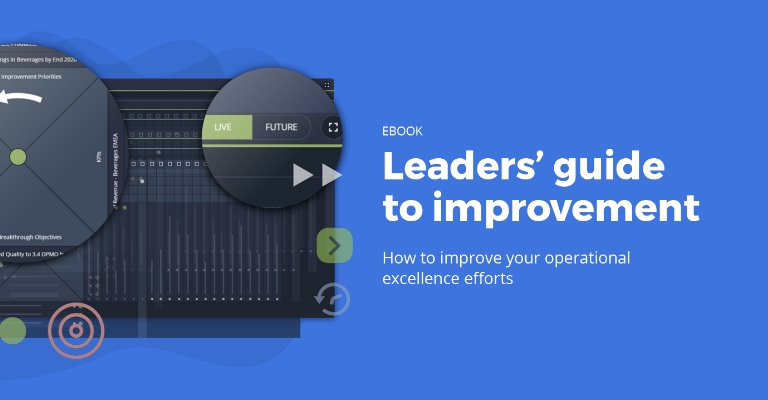 Ebook
Lead improvement in your business
Download this eBook to discover how continuous improvement can be used by your business to drive competitive advantage and delight your customers.
Guide
A guide to leading improvement
Jargon buster
The ultimate guide to excellence jargon
Trends
See where operational excellence is heading
Resources
The resources you need for process improvement
Your project management software
Our advice for getting real value from software
Comparison
DMAIC v Lean v Six Sigma
Explainer
The answer to 'What is continuous improvement?'
Explainer
The 8 principles of continuous improvement
Explainer
What is a Kaizen Event & how can you prepare?
Explainer
10 process improvement tools you need to know
Explainer
Lean Management explained
Explainer
Six Sigma explained
Template
Download a root cause analysis template pack
Template
Download an FMEA Excel template
Template
Download a Fishbone template
Template
Download a SIPOC Excel template
Template
Download a Pareto Chart Excel template
Template
Download a stakeholder engagement template
Advice
Why you must build culture for excellence to thrive
Advice
Value stream mapping explained
Advice
8 improvement capability questions to ask
Advice
DMAIC v Six Sigma v Lean: Choosing your improvement framework
Advice
How end to end should a value stream mapping exercise be?
Explainer
4 essential analyses for creating your Value Stream Map
Advice
4 tips to facilitate your Kaizen Events
Advice
A guide to Current v Future State Maps
Advice
9 challenges every improvement leader faces
Explainer
How to explain the value of operational excellence
Resources
5 root cause analysis tools
Advice
10 benefits that come with operational excellence
Template pack
A guide to Current v Future State Maps
Improvement webinars
Gaze into the future of continuous improvement
Improvement webinars
Did COVID-19 change operational excellence?
Improvement webinars
Kaizen Institute's look at the future of continuous improvement
Maturity model
Assess your operations' maturity with this model
Software
Learn how i-nexus powers operational excellence
Operational excellence software
Learn all about operational excellence software and how i-nexus helps organizations like yours
Unlock scalable value from improvement projects, processes, and people – all aligned to your goals
Accelerate project delivery, instill best practices, and ensure everyone supports your goals with operational excellence software from i-nexus.
The software in this space covers several purposes and functionality.
Why you need operational excellence software
One location for excellence
Aligning strategic goals to operations
Governing processes
Reducing risks
Tracking performance
Responding to results
Unearthing value
Bringing ideas to life
Growing your skills
Tools you'll need from operational excellence software
X-matrix
Process governance
Stakeholder management
Portfolio and project management
Workflow management
Idea management
Template and methodology management
Learning and development management
Root cause analysis
Operational scorecards
Automated reporting and KPI tracking
Impact and benefits analysis
The benefits of using operational excellence software
1. Standardized improvement
Project replication and standardized reporting at all levels of method application, making it easier for your teams to deliver improvement as you wish.
2. Increased strategic value
Increased strategic value of improvement activities through a clear alignment of investment with business priorities.
3. Reduced project cycle times
Reduced project cycle times and subsequent increased project success rates through standard detailed plans and the ability to track progress of delivery.
4. Greater productivity
Greater productivity through the elimination of non value-adding effort via the automation of reporting and governance preparation and distribution.
Introducing i-nexus operational excellence software
Discover how operational excellence powered by i-nexus strategy software allows you to unlock repeatable value from operational activity.
Built for PMOs and Lean, Six Sigma and process professionals pursuing an excellence mindset, inside i-nexus you'll execute your goals across portfolios, programs, and projects, exactly how you want.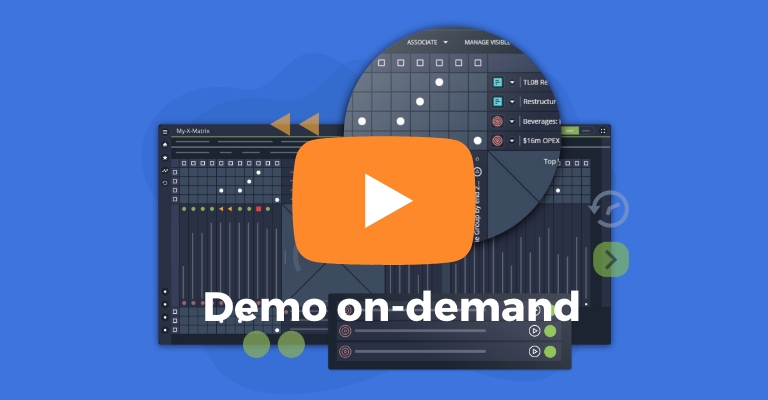 i-nexus demo on-demand
Watch our on-demand demo to learn how i-nexus strategy software helps you to deliver strategic value from operational work.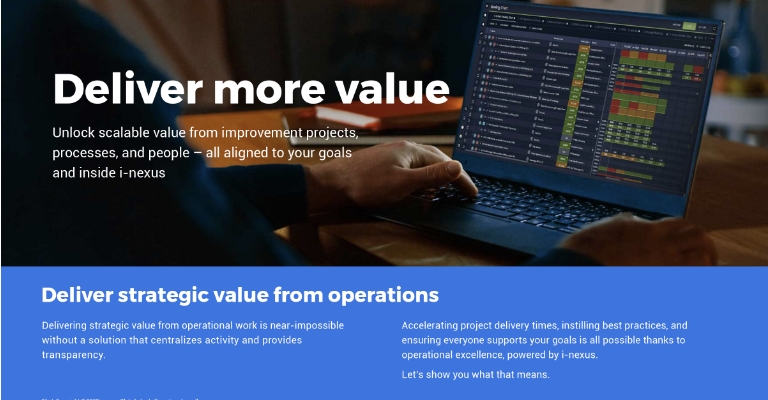 i-nexus operational excellence software datasheet
Learn how to unlock repeatable value from operational activity with our operational excellence solution factsheet.
Discover the better way to achieve your goals
Download a copy of the key to strategy execution eBook, watch i-nexus in action with our on-demand webinar, or book your demo of i-nexus today